Yasue Maetake, a Japanese sculptor who has been living in New York for more than 10 years, creates small to life-size works with found materials, blending abstract and natural-seeming forms into eclectic, fully hybridized wholes filled with allusiveness. Sometimes her work makes sense purely as abstraction, and sometimes it comes close to the observable world. The point is that Maetake's work touches on many different kinds of form, and many different kinds of thinking. Her sculptures—assemblages of radically different materials—create a reality all their own, though they welcome engagement and interpretation. Such artistic independence is not so much a philosophical stance as it is the outcome of creativity itself. Maetake's process extends beyond an understanding of and dialogue with materials as she questions and transforms their very nature. The seeming randomness of her sensibility results in a truly original sculptural aesthetic whose rawness apparently eschews traditional form before lightly embracing it in an act of constant becoming.
Jonathan Goodman: You were born in Japan; studied craft art at the Toyama Institute of Glass Art and glass in architecture at the Academy of Arts, Architecture and Design in Prague; and received your MFA in 2006 from Columbia University in New York City. How did these experiences influence your practice?
Yasue Maetake: I have been very fortunate in my exposure to diverse influences. My experience in Japan taught me to appreciate the value of working with a single material while also employing my own intuitive, even spiritual, aptitude. I was particularly inspired by learning how materials can guide the artist, communicating in an almost animistic manner. I wanted to become an expert in the use of a material by grounding myself first and then envisioning a process that would provide a deeper understanding of the world beyond the art. In Prague, I benefited from doing research in casting techniques under the vestiges of a Cubism-inspired glass movement. I exhibited in local town hall galleries, spaces in Gothic and Baroque castles, which visually influenced my later work. It was natural for me to investigate how art movements move in cycles. At Columbia, I observed a backlash against object-related art backed by the theory of commodity fetishism. In contrast, I wanted to offer a new paradigm that focused on the "object" as an archetypal entity separate from socioeconomic modeling.
JG: You live and work in New York City. Has it been a supportive environment for your development in sculpture?
YM: Living in a community with many immigrants, I've learned what it's like to make a new land my true home. Five years after completing school, I decided to locate my studio over the Brooklyn line, in Queens—a necessary step to ground my artist's sense of a neighborhood. I used to move a lot when I was a kid, and I developed a habit of not relating deeply to my surroundings because I would eventually be uprooted. It wasn't until my mid-30s that I realized the importance of becoming familiar with the people and spaces of a place because they affected my particular kind of production. I became very motivated to start over with a new, deliberate perspective.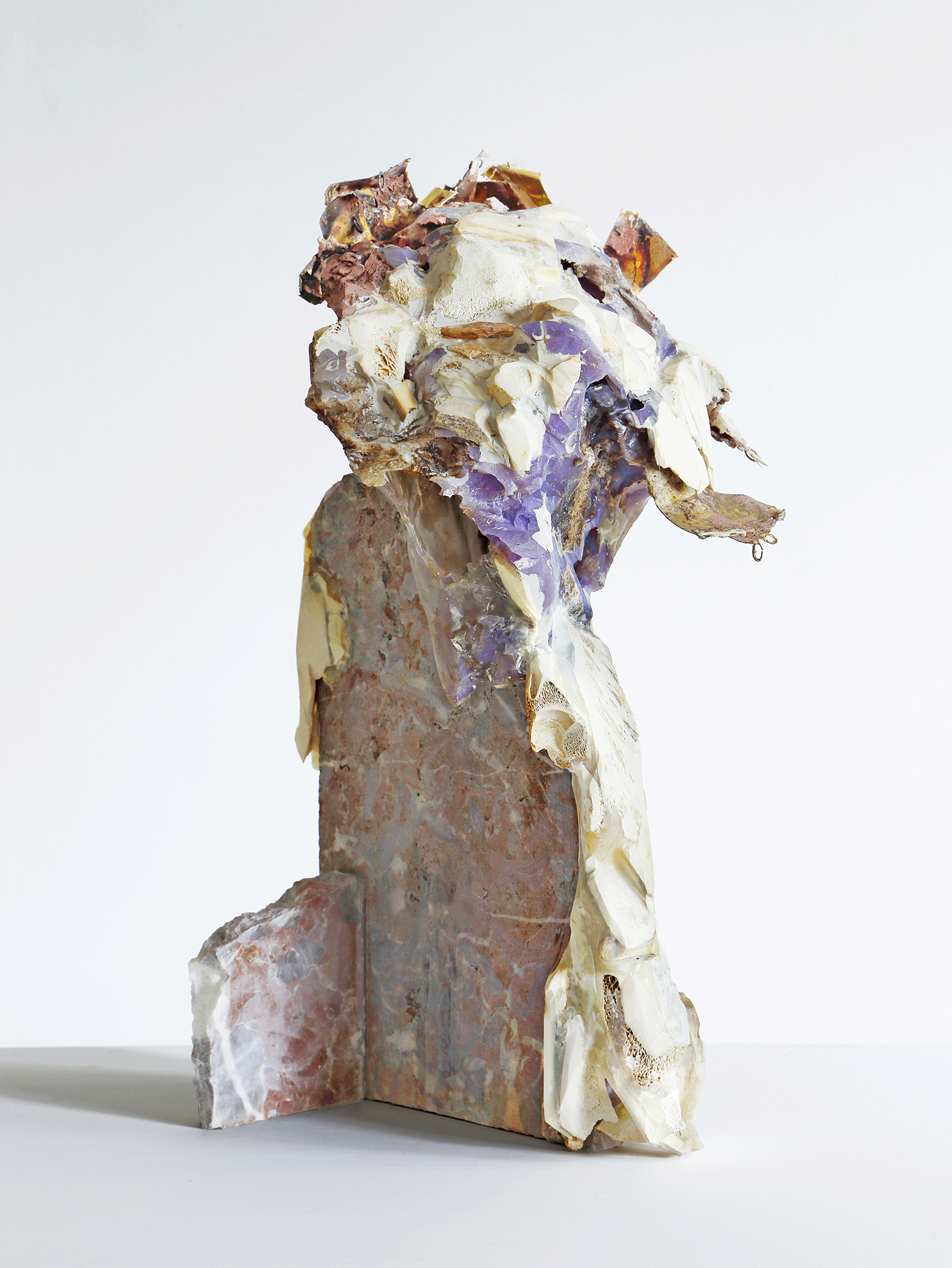 JG: Your sculptures consist of a broad array of materials, including brass plumbing, wire, plastic resin, wood, handmade paper exposed to copper corrosion, and animal bones. Where do you find these materials, and how do you manage to join them together into a whole?
YM: I sometimes repurpose found materials from construction sites, and I also purchase new raw materials. I attempt to understand the properties of different materials, breaking them down and then reconstituting them through casting, welding, burning, oxidization, and exposure to chemicals. "Un-preconceived" might best describe how I fuse together disparate items until they are reinvented. Techniques such as scraping or grinding away an object's surface history reset any previous identity and purpose so the materials can become a metaphor for my production as a life cycle resuscitated into new formations. My processes sometimes seem to involve excessively exploratory procedures, but they allow me to understand the physical world I inhabit.
JG: Does the physical eclecticism in your work match the cultural eclecticism you've experienced? Can you comment on the role of eclecticism in your sculpture?
YM: When I was child, I often talked to my friends about my parents, and I would edit out anything negative; I found that I could build a different persona in this way, as though I were in a fictional narrative based on a true story. I see my ongoing, upside-down exoticism as a continuation of that habit. Perhaps I have created an overly fantastical picture of the culture of my origin. Oddly, this may have generated a sort of hyper-reverse exoticism. I appropriate the ideas of elevation, dynamism, motion, and drama in traditional Western sculpture, particularly of the Baroque period. But I attempt to distinguish the artifact itself as a direct and purposeful continuation of natural events and phenomena—not merely a re-presentation of these things. I strive to merge these seemingly opposing approaches by rebelliously challenging and humanely embracing my materials and forms while reconciling them with my evolving eclecticism as it strives to become something other than what might be expected.
JG: Your work shows little or no visible Japanese influence. Or does it? Is it a mistake to categorize it as an example of a globalist style?
YM: There is certainly Japanese influence in my work.To miss its signature means that the viewer lacks knowledge, but that may also lead to a new interpretation. The problem is that subjecting art to a form of preconception minimizes the work itself; or worse, it presumes the "invisibility" of whatever the viewer concludes to be the artist's assimilation into global culture, which, I feel, does not exist. Globalism is a mere economic model, or perhaps better stated, a stage upon which all artists exhibit their unique roots and influences. Though many viewers have told me how much my aesthetic reminds them of variations of Japanese, Brooklynite, and European influences, this international character does not mean that my work is global. Economic power and a language that has come from internationalism inform New York's unique tradition, which I have grown to trust as my local culture.
JG: Your sculpture seems to connect with both recent abstraction and natural observation. Is this a deliberate choice? Do you have specific images in mind, or do you simply work?
YM: Since I frequently repurpose recycled materials, I would say that abstraction and natural observation are both deliberate choices. I let the materials themselves dictate eventual images. As I work, I regard the evolving creation from a distance, assessing and reassessing what the material tells me it needs and wants for its organic, generative process. I respond to a range of influences on a conscious level, which often yields blurred memories of representational components combined with figments of my imagination—for example, there are recurring images of flora and fauna, biomorphic forms, futurism, and classical traditions. My sculptures are not abstract, but based on a physicality of construction. They often appear to be in arrested states of rebirth. Such processes are like a "reverse entropy," suggesting a process of coming into being, rather than lapsing into decay. I am directed inward to a potent intersubjectivity, which drives me to produce infinite possibilities of form.
JG: Could you talk about scale in your work, which ranges from tabletop size to larger than life?YM: I think of scale as a measure of the artist's personality and message. In my sculptures, something that fits into the palm of the hand can achieve the dynamic of what we perceive as "monumental" because viewers bring their own imaginations to a felt experience of engagement. It is important that tabletop objects can be viewed fully without having to move around them; one can take in all their features from a single vantage point. Furthermore, smaller objects inhabit a kind of separate reality because they rest on a base; in this way, an object's surface expression and meaning metamorphosize in denser, reduced forms. These small pieces can present their spatial aspects to the viewer in surprising ways. My most comfortable range with objects is roughly eight feet in every direction. When it comes to larger-than-life, freestanding formations, I enjoy acting as an engineer, letting my body inform the process based on its relationship with gravity. I often suspend component parts from the ceiling before joining them together, allowing gravity and balance to influence the final compositions.
JG: Who would you identify as your artistic influences?
YM: There are several artists who have deeply affected me, including Anselm Kiefer, Mono-ha artists such as Shigeo Toya, and Butoh dancer Kazuo Ôno. I have also been influenced by Rodin's early mentor, Constant Simon, who said that the artist needs "to focus on a contour line from every angle of an object by moving the turntable." This point resonates with my appreciation of Japan's line-drawing tradition. I appreciate Baroque artists, like Bernini, who were committed to conveying dramatic dynamism in three dimensions. Personal friendship is also very important. Daniel Giordano was one of the sculptors who came to mind when I mentioned the idea of "un-preconceived" process. I first encountered his way of using materials in 2019, when my child was just turning two. It strongly imprinted on my mind because, at that time, I was particularly open to seeing a genuine example of un-preconceived sensitivity since I was raising a real-life version of an un-preconceived spirit.
JG: What do you think is the role of sculpture today? Many sculptors show in public spaces and museums because their work is hard to sell. Is public sculpture an answer to broadening the audience for your work?
YM: Many of my sculptures are appropriate for private ownership. As for public settings, people often expect public sculptures to be monolithic objects composed of materials like stone and metal, which are impervious to change. My works are meant to showcase truer forms that expose viewers to the boundaries between reality and fantasy. It's true that outdoor sculpture offers opportunities to show work that is otherwise "hard to sell," but another important aspect is mutability. The work can appear temporary and fragile, suggesting that it rebels against decay, even though it is permanent and not ephemeral art. Ultimately, there is a practical issue regarding public sculpture for me. My sculptures require a collaborative effort involving commissioners, technical experts, and public works departments, and, in order to pioneer challenging and innovative works, a concerted willingness to learn is essential. That said, showcasing in public spaces, although challenging, is what has endured over centuries. It is sculpture's true purpose.
JG: Do you read art history, theory, or criticism? Should art writing influence how artists think?
YM: I am very interested in critical theory and art history. I like to hear others describe their observations and inner reverberations. Reading art history and artists' biographies encourages me, and what I learn hits me close to home. I also love to reflect on the fundamentals of "reality" and "nature." The act of reading philosophy reminds me that, not unlike déjà vu, we are all born with innate knowledge akin to intuition. Isn't it the case that what we know in our deeper selves is there from our very beginnings? Books often serve as a mirror. I like to read Yusuke Nakahara's essays; my favorite is "Between Man and Matter," which he wrote for the 1970 Tokyo Biennale. Escape from Freedom by Erich Fromm is another important work. Fromm makes the point that "freedom toward" is not the same as "freedom from." His message releases me to be spontaneous in ways that uplift my creativity and move toward fresh associations with the world.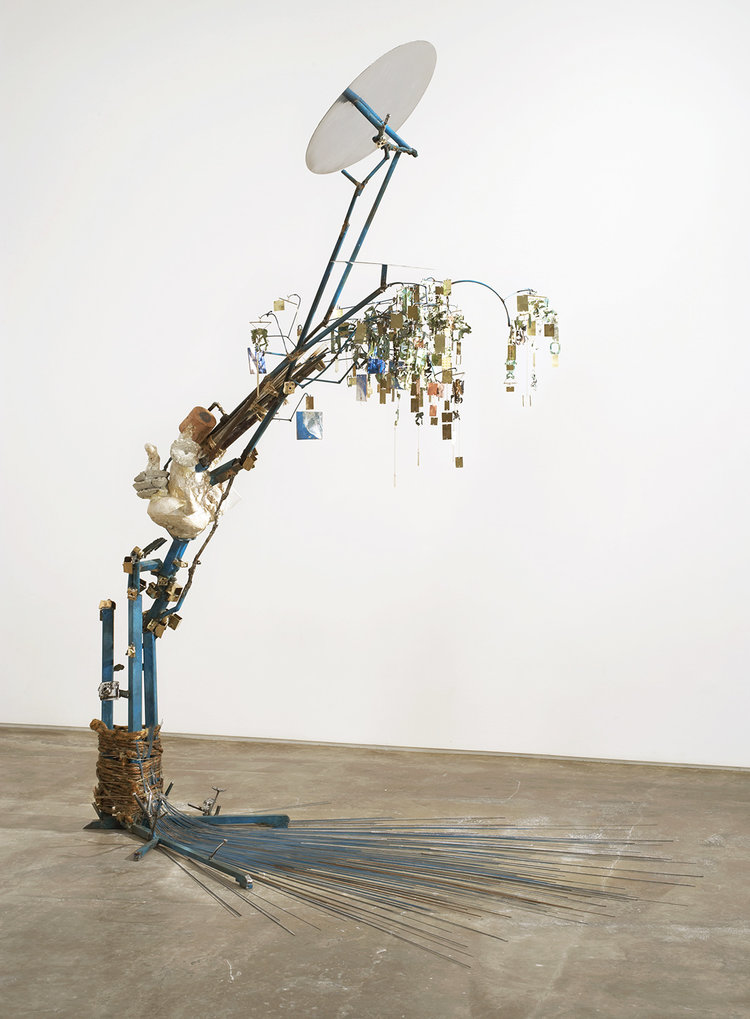 JG: Where do you want to be in the next five years?
YM: I am excited about taking the lead on an outdoor assemblage sculpture that will reveal the dual nature of vitality and vulnerability in its materials. I'm interested in how various fundamentals, including technological and natural forces, influence a work as it mutates in ways that open up the imagination to realms beyond the strictly human, thereby creating an experience that releases the mind to consider unfamiliar paradigms. I've learned that when I devote myself to using my inborn creativity to produce what comes to me at any given time, art itself mirrors back to my environment. Think of it this way: a family unit is defined by its members; a town is more than the individuals who inhabit it. In other words, our whole is greater than the sum of our parts because we exist in a multiplex cultural organism.